Costas Xydias S.A. is a company with family character, active in the wholesale of drugs and over the counter medicinal products since 1983.
Founded by Costas Xydias in Athens, the company is located in the Athens city center, which gives it a leading edge in fast, prompt and quality customer service.
Over the years, Costas Xydias S.A's primary activity has been to offer a quality service in the supply of drugs, over the counter medicinal products and cosmetics to pharmacies and wholesalers throughout Greece. The distribution of products is carried out through a highly trained organization and communication network, focused on prompt customer service.
Cosytas Xydias S.A. is among the first Greek pharmaceutical wholesalers which since 1984 started to expand on its' presence in Greece and abroad, creating and developing relationships with the most prominent firms throughout Europe. Today, the company has established stable and loyal relationships with partners both at home and abroad, relations which are governed by trust, security, respect and reliability.
Establishing and maintaining an active and reliable presence in the field, the company managed to secure exclusive agreements for product distribution with the following multinational companies: Amdipharm Mercury Company Limited (AMCo), Bausch & Lomb and Riemser AG.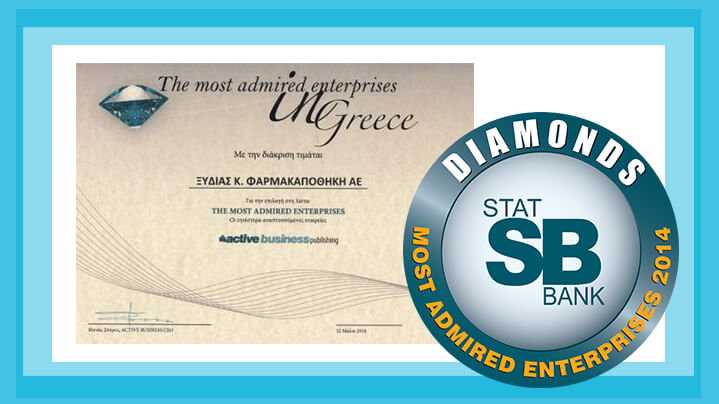 Costas G. Xydias S.A. one of the jewels of the Greek Economy.
After 30 years of hard work and dedication, Costas G. Xydias S.A. is now one of the jewels of the Greek business. Awarded by the pinnacle of STAT BANK, Diamonds of the Greek economy 2013, as one of the most healthy and profitable business in Greece. Awarded by the title: "Most Admired Company 2013" in a luxurious event at Radisson Blu Park Hotel. The features that made it stand out among so many other businesses are its economic evaluation, its the dedication to quality and its incessant quest for progress.
Contact
Contact us for any further information

Costas Xydias S.A Pharmaceutical Distributor
Solomou str. 65 , 104 32 Athens

Tel: +30 210 5242089 |
Fax: +30 210 5246347

Email: info@xydias.gr